"This is the best book on marriage I have ever read.
Do you guys have workshops or classes I can take?"
— JB M. Irvine, CA
"Yes, JB, we have online classes." -Editor
A Marriage Manual That Works For Everyone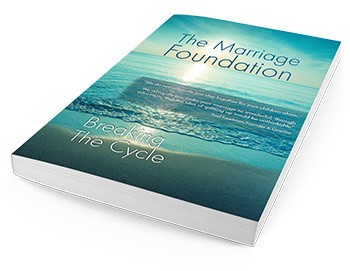 Our founder, Paul Friedman, created an easy to use system that clearly defines what one must do, and must not do, to achieve marital happiness.
All the time we hear from clients, counselors, and clergy, that the principles taught by The Marriage Foundation are revolutionary. That they once and for all unravel the "mysteries of marriage".
The number one reason given for the enthusiasm is that the practical principles are presented in a way anyone can understand, and quickly apply in their marriage.
Breaking The Cycle brings a happy, well functioning marriage  within easy reach of everyone.  Our marriage help programs, which have saved thousands of marriages, is a speedier and more coached way to save or improve a marriage. But many couples use both. Simply put, there is no better way to help your marriage!
Marriage experts around the world, from therapists, clergy, and marriage coaches, all agree that in the years to come, the unique insights and solutions discovered and categorized by Paul Friedman will be the guiding principles for all marriage help; they are that universal and scientific.
Breaking The Cycle begins, and ends, with a positive approach to marriage, showing that marriage has a deep purpose we all can, and should grasp. Rather than just take marriage as  "something we just do" Breaking The Cycle literally gives couples a practical pathway for exceptional marital happiness.
Nearly every page describes our primary human need for love and family. This book shows how to keep it alive, by weaving the true principles of marriage into our everyday actions, reigniting the love of our very souls.
One qualitative aspect sets this book apart. That is that everything recommended actually works!
Mr. Friedman reveals the psycho-physiological motivations behind all of our thoughts and actions, and thoroughly explains what that is, and how the vast majority of our "natural" reactions hurt our marriage. But then he shows and demonstrates the power of our free will, to use to increase our connection.
Though that may sound esoteric, Mr. Friedman explains everything in a way that makes you feel like you have always known what he presents. Most importantly, he shows us how to get our marriage back on track, without heavy lifting, by aligning our thoughts, feelings and actions with love. It is a guide which encourages us to do everything we say and do to build and nurture our treasured marriage.
He does not define a gigantic list of do's and don'ts. Instead of telling you what to do, he provides the key element that is missing in virtually all other marriage help processes: a useful method to guide your thinking and actions.
The methods taught are numerous. They are not "tricks" to manipulate your spouse. But are an artful blend of learning to understand marriage, and your spouse, combining wisdom with practical tools to directly improve your marriage.
Order Today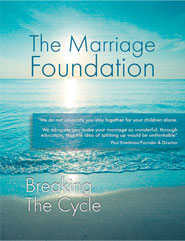 "I read Breaking the Cycle every day, and will continue doing so until all these principles become a part of me."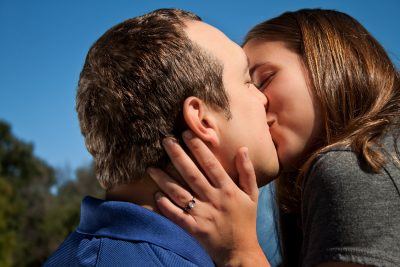 The above quote is from a veteran marriage and family therapist in New Jersey. But he is not alone.
Marriage therapists throughout the world consider Breaking The Cycle the most useful tool in their arsenal. Written primarily as a training tool for therapists it is studied and constantly referred to by those who take our TMF certification program.
BTC is intended to be understood and used by normally educated people, too. Every idea and suggestion is intricately explained, so the science of marriage is irrefutable. But it is not written in jargon. It is written in clear language.
This is NOT a book of trendy ideas! This is NOT a book relying on psychological theory. This is a treasure that explains the opportunities for success in marriage as has never has been done before.
Whereas most marriage help practitioners, and their books, focus on repairing it or ending it, Breaking The Cycle "compels" and encourages you, guiding you step by step to tap into your own wisdom, so you behave in positive, marriage-friendly ways.
By demonstrating the clear rewards of beneficial behaviors, rather than by moralizing or using threats, you will do what is right because you want to, not because you are forced. The analogies often used are wonderful, and thought provoking. Rather than telling the reader "do this, don't do that" you learn how some behaviors are "like driving off a cliff, but you do not know how far down the bottom is until it is too late." The style is engaging, and the lessons are always profound.
Breaking The Cycle Is The 2nd Book Written By Paul Friedman
His first book, Lessons For A Happy Marriage,  is successful because it addresses the core issues in a very "simple" way. However it is not detailed enough for professionals. They prefer thorough foundational information to back up various positions. BTC offers scientific formulas, rather than opinions. Individuals and couples who are not sticklers will do just as well with his first book. But each should decide for themselves which book they feel more comfortable with.
Paul wrote Breaking The Cycle about the same time he began The Marriage Foundation (a 501c3 nonprofit). He realized the great need to spread his unique and positive discoveries, and teach methods and ideas that actually work, and helps couples achieve marital happiness. His purely positive approach, coupled with his deep love for people, opened the door for marriage experts everywhere to learn our approach to marriage.
Here are actual excerpts from Breaking The Cycle.
"Never give up
Your marriage is not over. Nor should you believe it is even close, even though it may feel that way with all you have been through, and are still going through. From now on, to the best of your ability, you can live according to positive marital principles.
As your understanding and abilities improve, so will your marriage. All your good intentions, even if your past efforts have not always been the right kind, still count as an investment into your marriage.
With your everyday efforts more in synch with the right kind of thinking, your lives will improve. Do not give up."
"Marriage is not a set-up for suffering and failure. It is a set-up for fulfillment
Yes, your fears are perfectly understandable, and it is not really your fault that you would be uncertain. Everything on the outside of your marriage, from divorce trends to gross misunderstandings of marriage relationships, pushes couples into feelings of discouragement and hopelessness. Couples are surrounded by doom and gloom stories, so they do not realize how simple it is to bring back and actually rejuvenate a troubled marriage. And to make matters worse, people in trouble are mislead into thinking divorce is a "positive" option. If not for the blitz of misinformation, the vast majority of hurting families would never contemplate divorce for a minute, but would put all their attention on solutions, as they should."
"You will have success by moving in the right direction, with determination
Putting an end to all the misbehaviors takes a bit of time, but we don't want this to take years, or even months. So you need to put in a lot of upfront effort. At the same time you have to get started on getting the joys your marriage has to offer. Your marriage is alive, and it will heal. If you follow our guidance it will heal faster than you can imagine. But there is no getting around the fact you have to deal with the reality of a marriage filled with hurt, anger, frustration and weariness. You can't just skip the steps you have to take to end the scourge of the killers."
"You have to control your tongue! You also have to control your mind, too! This is not airy fairy! You have to work at this with all your might! Success without effort does not even work out when you are dreaming.
Remember the eclipse effect? Nothing reduces the good feelings from a compliment as surely as an insult or slight that comes afterward. So keep the little digs out, too. They may seem funny to you, or "innocent", but your marriage is not a sitcom. Ending all the abuses you currently extend to your spouse, in every overt or subtle way, complaining or criticizing or whatever; will open the doors wide for all kinds of happiness. You have to stop the misbehaviors!"
 Testimonials From Amazon
"…I don't trust the psychiatric profession. I saw how they wasted hundreds of hours and thousands of dollars trying to "fix" my ex-wife and me. Yet, before I even finished reading the book, I started using methods taught in the book that worked over and over again. This book doesn't use tricks. It gives me an understanding of how to make a marriage work…"
"Easily the best book I've ever read on saving your marriage, and actually one of the best self-help books I have ever read — on ANY subject. Breaking The Cycle is well-written, with thoughts expressed in a fresh, cogent, sensible manner…"
"This isn't a let's find that romance that we once lost book. It isn't a book that will make you want to stair lovingly into your partners eyes as you turn the pages. This book wont make you want to go out and buy your partner a sweet gift to profess your love once more. This book is a tell-it-like-it in marriage manual. It kind of reminds me of the Five Languages of love, except not nearly as complicated (and the five languages isn't even that complicated, so that should tell you something). The Marriage Foundation is easily understood, easy to navigate to, and straight to the point…
Testimonials From Barnes & Noble
"…What a transformation for me! Instead of being a victim to my habit thoughts, I can transform myself. This is incredibly empowering.
We should have been taught these things in school & in a how to live class! This book is truly about educating us all in how to create a successful marriage…"
"…I have been a Licensed Psychologist since 1989. I witnessed the failure of conventional couples advice and counseling for the vast majority of troubled marriages.
Breaking The Cycle presents commonsense methods and principles that light the path for couples to achieve highly fulfilling marriages…"
"…I have read this book several times.  When I started, I was single.  Even though the book is geared more toward people in troubled marriages, I found the education to be foundational to my now-amazing relationship with the love of my life.  We are engaged to be married and both she and I practice the principles taught in this book, which I've never seen or heard of anywhere else even though they seem like common sense!"
Some individuals begin their path to a happy marriage by reading Breaking The Cycle, and then they move on to the marriage help program for a more focused approach. Naturally the program is the best way to heal a marriage; period. But unless a marriage is in absolute free fall this book will give you all the tools you will ever need.
Order Today