I wrote about husbands using dating sites well before the recent Ashley Madison outing. But, I was thrilled by the ultimatum given to the company by the hackers, because offering escapades to a married person having marriage trouble is like offering booze to an alcoholic.
Some smart men got scared; good! This article is not to proselytize, but to save marriages. Use your discovery as a wake-up call, and call to action; not a reason to end your marriage.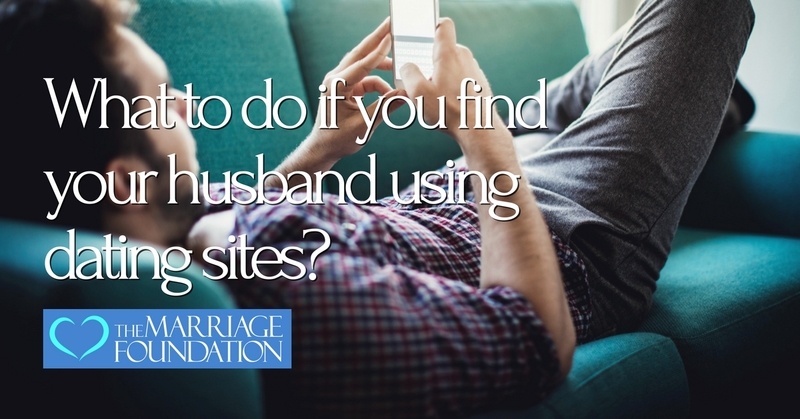 The immorality of cheating on one's spouse is not debatable. Cheating of any kind, to any degree, is immoral, but It does not have to spell the end of your marriage; not by any means.
I will help you be able to think things through with clarity
I realize you need a sense of direction, and a good plan. This should help you with both.
The shock and disappointment you feel now (or the numbness) will take some time to get over, but it always passes. I promise; you will get past this. But I do not want you to think it will pass, and everything will automatically be okay. If you do not change the underlying dynamics of your marriage, which you can accomplish without his involvement, this, and other problems, will keep cropping up again, and again. Instead of getting swallowed up by the magnitude of his betrayal, let's make it the turning point in your marriage.
The ONLY thing that will work long term is to change the underlying dynamics of your marriage
My ONLY desire is to help you get your marriage back, and we are very good at that. We have helped countless women do so; ones who were told it was impossible by others.
It is not easy to hear that your husband would not have strayed if your marriage was better. But if you pretend things at home were fine until he strayed you are fooling yourself.
Things were NOT fine! If they were, and he thought so too, he would cherish you and never do anything to hurt you. His straying is a wake up call, or a death knell; that is up to you.
Do nothing positive and proactive and your marriage will keep getting worse; guaranteed. But if you take positive action you will not only save your marriage, but you will be able to have a great marriage; I promise you that, too. It is up to you.
"Why did he do this to me?"
If you think about what I write here, and I mean deeply, your eyes will open.
Marriage is the deepest and most holy relationship you will probably ever have. It is between two souls. It means the pure soul of each of you is supposed to utilize your mind, your body, and your self control for the purpose of expressing love, in ways not possible in any other relationship; marriage is the perfect hive for that.
Those couples who live in such a sweet loving marriage never consider cheating. Not because it is immoral, but because their hearts minds and souls are so full of love that the thought never enters into their mind.
The PRIMARY reason for problems is that you do not have that in your marriage. You can. But you don't now. The other reasons, which follow, are trite in comparison.
There are 'reasons' any husband would act disloyally. Is it because he is a "two timing so-and-so who should rot in hell"?
True, some men never should have gotten married. Those few are cursed with true mental disorders, or are evil (a hard bar to reach). But in the vast majority of cases this kind of thing is very healable. When handled right, the men come back to their senses.
This article is not for you if where you want to start, and end, is with condemnation of your husband. That would mean you already decided your marriage is over. We want your marriage to be resuscitated and set back on track; to be better than ever.
Nor do I share a 'how-to' for getting him to apologize, come around, or beg for forgiveness; with the fragile hope that he never strays, again. That approach is neither realistic or permanent.
I offer a way to start (or re-start) from now, right where things are, to end the negative cycles in your marriage, and then positively build your marriage into what it is supposed to be; because you choose to make your marriage work.
You will learn to understand him, his weaknesses, and how he succumbed. Otherwise you will never be able to forgive what he did. Understanding is essential in marriage, anyway. So it is a power you will also use to build your marriage.
What you should do now, and in the future
This is the main purpose of the article. The emotional impact, although destabilizing, has to be set aside, best you can, using both techniques, and the great alchemist; time.
There is indeed a pathway that will not only resolve the past issues that got the two of you here, but bring you to the "promised land" of marital happiness. You will get started on that pathway.
This did not "just happen" out of the blue. You have to get back on track
Why should you save your marriage? Just for the kids? Sure, maybe. But, let's use the love you have for your children as incentive to change up your marriage; not the primary reason.
It takes a real commitment to put the time and effort into healing, so whatever incentive works for you; go with it. The goal of a happy marriage needs to replace discouragement because of what happened….in the meantime, yes, there are things to NOT do.
What You Should NOT Do
Commonly made mistakes are all too easy to make in these situations. If you already did something, you cannot undo it. So, it is not the end of the world, but there will be a little more to deal with.
Do not confront your husband
Confrontation causes people to dig their hole even deeper. We want to bring you two closer to having a good marriage, not further apart. If you ignore this warning, or already confronted him, there are possibilities you can expect.
He will lie – lying is the most common reaction. People who are busted, lie to 'get out of it'; it is what the vast majority of people do. It is a primal defense; to run away from danger. And, because he has already been lying (it is what straying is, in a way) it is pretty easy to just go deeper into the lies.
He will make impossible-to-keep promises – i.e. I made a mistake, it will never happen again (most common), lets work on our marriage…etc. These pie crust promises, as described by Mary Poppins, are 'easily made and easily broken'. Unless the dynamics of your marriage change, what you have now, is what you will always have.
He will blame; you, your parents, the girl at the office, or… you get the picture. This is primal, "flight or fight". The above are "flight". This is "fight". He is confronting the "danger" to himself. Nobody behaves well when confronted.
                        Pointing these out to him will backfire!
Do not tell anyone what he did
This is a cardinal rule for marriage, anyway. Marriage is a closed-off-to-the-world deal. Only the two of you are ever supposed to know what is going on within your marriage, and that practical rule is especially true for your problems.
Hide any and all marital problems from your kids
You are supposed to provide an ultra safe environment, as in cocoon safe, for your children. Your marriage is not meant to be shared with your children, but provide the love, examples training and security they need. You should NEVER criticize or condemn your husband, anyway; but especially in front of your children.
Don't vent
Venting is all the rage; pun intended! When you 'hear' things your subconscious mind takes it in, giving the negative more substance. If you 'hear' validations of your frustrations, anger, and condemnations, you will have more obstacles to contend with.
I used to be among the very few who advised against confrontation, condemnation, and venting. Thank God more people are getting wiser!
I'm not making light of anything he did. But, the anger will subside. You will be able to forgive him, and your life will not end. The above keeps you from making things even worse. If you choose poorly, there is no "bottom".
You may write in to us if you would like to understand better, or if you have any other questions about your marriage. Our specially trained counselors can explain whatever you need. It is what we are here for.
Why do men use dating sites and cheat
Very few men are "wired" to cheat. But they succumb to temptations. It is a bad choice. You also have a choice; right now.
You have two general perspectives to choose from
Judge your husband. Which will move your marriage to its end.
Seek understanding. Which will begin the shift towards a good marriage.
I have heard some wives tell me they understand 'all that'…but.
I know what that "but" means. It means they ARE judging, and choose to not allow any understanding driven compassion and forgiveness into their heart. They want contrition, at a minimum, and often nothing less than "justice".
I've even been told 'he cheated on me, so I cheated on him'!
None of that works. There is no middle ground , either. If you ever want a fulfilling marriage, with love as its core, you will need to make some big shifts in your thinking and changes in your behaviors. It is worth it!
Can you forgive? Yes, you can. It is not ignoring or accepting the grotesqueness of the offence, which never has to be done, as much as it is about opening your heart.
You may want to react. You may get defensive and angry. Try your best not to do that. The "what about me" mentality is a worse marriage killer than cheating!
The 4 reasons men go on dating sites
"Above all your getting, get understanding"
It is not your fault that your husband broke moral codes. That is not suggested or implied. Yet, no one should be too surprised by certain reactions individuals have to their environment.
I NEVER tell people what to do. And our counselors, who I personally train and hire to answer questions, are not allowed to tell anyone what to do, either. But we point out common-sense reactions, when it's appropriate and helpful.
The following are reactions men who stray have to their marriage. Some are self-created, while others are due to poor marriage behaviors on the part of their wife. You can use these as a way of gaining insight into your own situation. All of these are fixable.
Boredom
There can be many causes for boredom, but usually it is due to a breakdown in positive interactions. The causes always are due to the couple not having enough practical marriage aptitude.
Marriage is complicated, but looks simple. So most couples "just" get married. They really don't know "how" to treat each other for the best results. So, their marriage, and relationship. loses its zing.
Escape
Neither of a couple's expectations are met in a stagnant or declining marriage. When it becomes too burdensome anyone will seek escape. There are 'okay 'ways to escape, of course. But it is better to heal the marriage, and not have to consider escape; because you love to be together.
Love to be together
If it has been a while, you can see you have a problem
Anger
This reaction is all too normal, and usually means the wife has to choose to save the marriage mostly, or all, on her own.
In cases of boredom or escape, both of the couple want to take the courses, because they both see the possibilities. But by the time anger causes the man to stray he is not amenable to being part of the problem.
Will the marriage make it? Absolutely! But the effort is almost all the wife's.
Will he stop cheating? Absolutely! But it takes longer for him to jump in and make effort, too. Usually he remains passive, waiting to see if his wife is sincere.
Exit strategy
In this case the husband is on his way out. He gave up on his wife, and his marriage. He feels betrayed, abused, and hopeless. Usually it is because his wife has chosen to not listen to his complaints, or hopes.
The chances for a successful recovery are nearly 100% on the wife's determination. It is not unusual for a wife to contact us "too late" to stop his momentum. He already left the home, and his family.
However, we have seen determined wives win their husband back. If she makes up her mind, and sticks to our program, the result will be positive, he will come home, 90% of the time.
My books will be useful. Either of them, Lessons for a Happy Marriage or Breaking the Cycle. The first is lighter to read, the other one is our textbook for certifying our counselors. But of course the courses are the best. Some like to ease into the courses; reading a book, and utilizing our free help.
What you should do right now, (and in the future)
Become more marriage-friendly. In every way, shape, and form. Completely stop any and all criticism, complaining, and expectations. There is no benefit from expressing anger.There is always benefit from behaving in ways that express love; even if you do not feel it at the moment. What would you tell your kids to do?
Be more loving. In ways he wants you to be loving. Don't ask him what he wants, though. He won't believe you want to do better; he probably gave up on you, and the marriage, already. He can never articulate the kind of true needs he has because of the preoccupation with sex we all have been taught. But it is not about becoming more sexual, anyway. Be loving, and

show it in ways that are not sexual

(though sex is usually important). Becoming too sexual all of a sudden, however, will easily backfire at this point; it will not help.
Pay attention to his needs for heart-based intimacy. Clearly if he were deeply satisfied, he would not be looking (not always true, but usually) online.If you are pleasantly persistent and loving you'll see what he wants and needs. Intimacy is not sex. But sex can be intimate. Again, don't let your reactiveness cloud your judgment and patience. But if you are currently regularly sexually, you need to

be much more heart based than you currently are

, not better in your "performance". If you do not know what I mean by this, you really do need to at least read one of the books.
An underlying truth about success
To accomplish anything in life you need to control the mind. This is a problem for many people, and one I take very seriously. You should take it seriously, too. I created the SEW technique to help people, and always advise its use. Not just for when you have troubles, but for your whole life.
The SEW technique is literally in the first section of our marriage course, that's how important it is. No matter what you know, or learn, proper execution requires self-control. The SEW technique helps you leverage your will power to achieve your aims,
The true lover loves without wanting anything from the one they love, not appreciation, or anything. They just love
That was your vow when you got married, but because your "love" was not like that your marriage broke down. It can still come back. But not as long as you allow selfish and even hostile thoughts to reside in your mind.
This is a huge test for you to win. You cannot fool life. You cannot pretend to love your husband just enough for him to love you back. You need to persevere with what you learn, and change yourself into the ideal lover. If you do, the results will come….don't give up. You can do this!
These are the three things that will help you "see straight"again
You can meet with me, or one of my TMF trained counselors. But  we won't do it. It is too slow, and costly.
It's what therapists do in order to have a long term, expensive relationship with you; that's not us. We want to help you fast, then get out of your life.
You can read one of my books. These are usually not enough for marriages in serious trouble. Hopefully yours is not in that serious of trouble, but it could work. Usually, depending on how far he strayed, you will need more than one of my books.
Either Lessons For A Happy Marriage, or Breaking The Cycle, which is more technical, and could be called a marriage manual; are great options.
My books get all positive reviews, because they are ideal guides. Everything is common sense and practical. You can implement what you learn very easily.
Breaking The Cycle is in book stores all over the country, and is promoted by couples counselors (even though I recommend against couples counseling), so it sells better. But either one is very useful.
3. If your marriage is in serious trouble, like if this is not the first time, you need to go all the way to our online courses.
You should start your course first (there are two different courses; one is for women, and one is for men). Usually all the power to heal things is in the hands of the wife. It may not be "fair", but it is true.
Half our sales are to couples, and both take their course. So, either way is okay. Use this link to look at what all comes with the courses.