A reader asks, "In all other ways, he is a great husband. He is a good man and doesn't cheat on me. Also, he is a good father to our children. But when we are at Starbucks or a restaurant, he always flirts with the girls who take our order."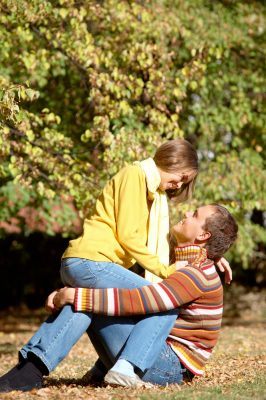 "I pretend it doesn't bother me, but it makes me feel like I'm on a date with someone who is always looking for a better catch. It's humiliating, as I stand there trying to smile. Why does my husband flirt?"
"I have read about standing up to my husband and telling him how I feel, but I know him. I don't think it would work. He would get angry and call me insecure. Then he would tell me something like, 'I married you, didn't I?'"
Our Response
To begin with, it is good you wrote to us, because nobody does well when they are confronted, especially by the person they married; who they expect to be sweet to them. Besides, "standing up" to your husband will get the same results as disciplining a cat. In case you don't know anything about cats, what I'm saying is that the effect will be a waste of time; at best. But you will usually be lied to, distracted, or whatever.
I write for people who want to recapture and build the love in their marriage, not for commiseration. I don't trash or condemn, regardless of either of your flaws and errors. How to recapture and make your marriage great; that's what we help with…  You can, and should work towards a GREAT, not just good, marriage. Let us show you how.
We also get occasional comments (below) from sincere, but incensed individuals who think I let men (or women) off the hook. My response is simple; your husband can change; but not under the current conditions… Most men come around, and become great husbands, only when you display truly marriage appropriate behaviors. I show you where your power to improve your marriage lies. My approaches are very simple, and scientific.
In this case, obviously, what he is doing is neither nice or respectful. But in and of itself, among marriage problems, it is "smallish" (as you describe it), not something to consider a big warning.
On the other hand, you should consider it motivation to get your marriage really on track.
If you and your husband had an ideal marriage, which is the only kind to have, your husband would never even look at another woman; much less, flirt!
Why would a man flirt in the first place?
Sure, you can analyze your husband's motives. You can, if you want to, blame him, put it on your husband to change his ways. Neither of those approaches work though; ever!
Obviously, to anyone but an immature unknowing person, your husband is doing something that works against your mutual and individual best interests. But what is really happening here, is a clear message is being sent to you; that your marriage is not the ideal marriage you should have.
A man will flirt when they are not so connected to their wives in deep ways. So they either see no problem with it, or they want to rub their marital dissatisfaction in their wife's nose. A happily married man is not about to humiliate his wife.
Instead of calling out your husband out for his 'childish' behavior, I would like to turn things around; so you can see what he is dealing with. Then I'll give you advice that will improve your marriage; things YOU can do, without even telling him you are doing them…he will notice!
Your husband's point of view
Your husband wants a great marriage as much as you do. Let's begin right there. 
Many people, both men and women, think they are the only one in the marriage who has a complaint. But trust me, if you are unhappy enough to point out your spouse's flaws, and criticize them, I guarantee they are doing the same thing; but maybe not out loud (nor should they call out your flaws). It may be they keep their mouth shut, but they still have complaints. Don't you think?
Let's be a little "big picture"
Your husband didn't get married to suffer the rest of his life; did he? No. He wanted to marry the woman of his dreams, and live happily every after. So, from his perspective, his marriage is not what was "promised".
He may not even think about your marriage in that way, as life has a way of keeping us focused on the moment. But I can assure you that he doesn't appreciate you the way he used to. He isn't as nice to you as he used to be, and he doesn't express devotion to you the way he used to…why? Because, from his point of view, you don't treat him the way you used to, either.
A man who appreciates his wife wants her to know how much he loves her. He doesn't flirt or even look at other women
The drive-to-procreate in men is "simpler" than it is in women. You can sum it up as S-E-X. The drive screams at men to copulate (have sex), and then move on, like animals. If not for maturity, inner wisdom, social pressures, and personal restraint, it would still be a jungle out there.
Women manifest that very same drive-to-procreate in much more complex ways, because nature assigns them the task of raising children. The female has to make sure her offspring is taken care of for a lot of years!
Men are not wired to do that, not in the same way. One look at the physical equipment related to child care and even a fool can tell which gender nature assigned this 'honor' to.
Modern, or I should say "civilized" men, override their drive to procreate (sex drive) in order to get along with others. The few men who make it look like it's no sweat to override those urges, are either good at hiding it, or have a clinical reason for a reduced sex drive. But all healthy men have a sex drive.
Some 'wiser' men have made it a habit to divert that constant energy to other, more beneficial, creative endeavors. It is, after all, essentially energy. So men can learn how to divert it.
In your case, his openness about flirting sends a hidden message of trust, in a weird sort of way. I think he trusts you enough to get your attention in this way. So, instead of condemning him for flirting, you might want to be looking at your marriage; it is not performing as it should.
Get away from criticizing and blaming him. Instead of pouring those negatives into your marriage, see what you can do to create the most amazing marital connection ever. You DO have the power!
Don't think "oh, we just need to get through this one little thing"'. Nonsense!!! You absolutely can and should have a super happy marriage. Don't settle!
Three things will work
You can meet with me, or one of my TMF trained counselors. But that way is very slow, tedious, and we won't do it.
Therapists create long term relationships with clients for more money; that is not us. We are here to help you fast, and then get out of your life.
Read one of my books. These are not enough for marriages in serious trouble. But hopefully you didn't forget to mention a serious problem, like cheating.
Either Lessons For A Happy Marriage, which is not very technical, or Breaking The Cycle, which is quite technical, and could be called a marriage manual.
My books get all positive reviews, because they represent a fulfilling and doable way of looking at marriage. Everything is common sense and practical. You can easily implement what you learn.
Because Breaking The Cycle is in book stores all over the country, and is promoted by couples counselors (even though I recommend against couples counseling), it sells better. But either will work.
3. If your marriage is in more trouble than you let on, you need to go all the way to our online courses.
Only the one who is complaining should start the course for themselves (there are two different courses; one is for women, and one is for men).
Half our sales are to couples, who both take their course. So, either way is okay. You can use this link to look at what all comes with the courses.
Now, some suggestions you can use now
Is it okay that he flirts? No, of course not. But that isn't the problem
There is no perfection in the world. But when you know what you are doing marriage comes as close to perfection as anything I have ever heard of.
Is your marriage off the charts? No, obviously not! So, why just work on this one teeny weeny part of your marriage, when you can make your whole marriage amazing?
I have to add, you describe some qualities he has in very positive ways. He is a great dad and he is a great husband. Also, he clearly is not hiding something. I wouldn't say a word, nor entertain the desire for him to change. This is far from a marriage buster.
This is a marriage message; get yourself up to speed! Make your marriage great! …How?
Go back to the above advice.
The first step is for you to either read Lessons For A Happy Marriage, or Breaking The Cycle.
But if you are not telling me something, and your marriage is all over the place, or absolutely collapsing, then you need to go all the way. You can use this link to look at what all comes with the courses.
Some things that will help put you at ease for now:
Re-frame his behavior in your own mind. Instead of judging him—which is uncalled for—consider this "silly" behavior. Refuse to let your mind convince you of feeling threatened. Try to see it as "cute," so you can smile at him when he is flirting.
Engage right along with him. If you jump into the conversation with your own compliments for the servers, it will change the dynamic from flirtatious to friendly. Your added energy will lighten things up.
Disallow negative thoughts about your husband. It's your mind, and you can make it think and feel how you want. Your habits are also under your control. You can create all kinds of positive thinking in your mind. This will bring you happiness. That happiness you feel will be a wonderful part of your marriage.
Your husband is a great treasure in life. Love him, show him you love him, and everything will be OK.